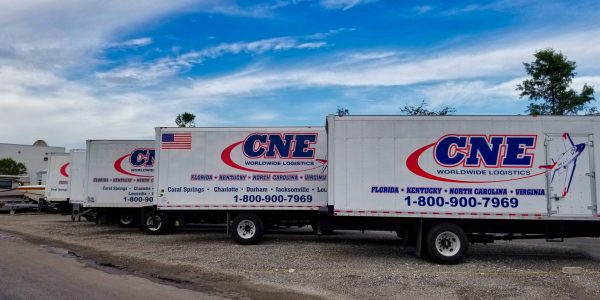 For over 30 years, CNE Worldwide Logistics has provided businesses with a hands-on, professional team effort that can only be described as First Class. Utilizing years of experience, 8 facilities in 5 states, and their fleet of CNE trucks and trailers, their Logistics team provides custom solutions for local pick-up and deliveries and air freight service that can be tailored to the needs of their customers.
Being a family-owned operation, CNE prides itself on hiring employees they see as part of their team. CNE is dedicated to its employees whose teamwork over the past 30 years has made them one of the most successful and respected businesses in the logistics, transportation, and shipping industry worldwide. They continue to be committed to developing and nurturing relationships that will make a positive difference in their employees' and customers' professional lives while remaining personally accountable for delivering on their promises.
For Director of Human Resources Ross Dubow, CNE Worldwide Logistics is a family operation. Dubow's father being the founder, made the decision to pivot and work for his family's company an easy one.
"CNE was growing rapidly, so I decided to leave my former career to return and transition into a full-time HR role. A few years into the role, I now manage the entire recruiting process and the overall department."
Since the pandemic, the company hasn't had a chance to slow down in hiring. However, with only actively posting on two job boards, their efforts weren't delivering the results they needed to fill their seats. "We needed to diversify outside of the resources we were using, which is why we were open to hearing how GoToro could be a good fit for us."
Using job boards like Zip Recruiter wasn't helping Dubow get the right candidates for their more challenging CDL positions due to the limited reach. CNE needed a resource to get their job ad in front of more potential candidates, so they decided to start a campaign with GoToro.
"
We needed a resource designed to help us fill our harder positions. Today, GoToro

is the only platform we use to fill our Class A positions.

"
When asked about CNE's experience with Account Manager Kathryn Slate, Dubow expressed how much the company appreciated this white-glove aspect. "A-plus all around. One of my favorite parts of our partnership with GoToro is the personalized one-on-one care we get from our Account Manager Kathryn."
Communicating constantly with their Account Manager to quickly make changes to job postings has been a game changer for CNE. "I'm very big on communication, so speaking with our Account Manager regularly on what we need to adjust or add to our job postings is important to us. She takes the time to know our company and needs."
GoToro's ability to reach candidates qualified for CDL positions has been vital to CNE's company operations. Dubow emphasized how the quantity of leads doesn't help if the quality isn't there.
"
Other platforms focus on quantity over quality. GoToro is great at helping you advertise for harder, more specific roles to

give you the candidates you need. "
Being able to get constant exposure through our omnichannel network has helped CNE Worldwide Logistics hire 15 drivers using GoToro. CNE Worldwide Logistics continues to be a valued customer of GoToro. Dubow didn't hesitate to answer when asked if he would recommend our services. "Absolutely. I would recommend GoToro due to the great customer service and overall success we've seen."